The leading expert within financial education, Sharon Lechter
1. Tell us a bit about yourself?
I am proud and honored to be recognized as a global authority on financial literacy as well as a respected business mentor… but my story starts from humble beginnings. I was the first generation in my family to attend university and while I did not appreciate it at the time, I had the benefit of being raised in a very entrepreneurial home. The experience of helping with my family's endeavors –living between 2 businesses and cleaning rental units – soured me on being an entrepreneur…so I set my sights on becoming a sophisticated professional!
In that pursuit, I became a CPA in public accounting. While on the fast track to partnership, my innate entrepreneurial spirit soon triggered, and I found myself identifying new business opportunities everywhere I looked. The experience of growing up in a very entrepreneurial home combined with my professional training as a CPA, spawned a desire to create opportunities and innovations that could improve others' lives.

I have spent my career identifying and serving needs and, in the process, building global brands. The first was talking children's books (at a time before children had any hand-held technology), followed by the Rich Dad brand. As co-author of the New York Times Bestseller Rich Dad Poor Dad and 14 other books in the Rich Dad series, I led the company's global expansion as its Co-Founder and CEO, creating the No. 1 brand in personal finance. We recognized the need to provide the tools to help people take control of their financial lives.

In recognition of my dedication to financial literacy, I was honored in 2007 when President Bush appointed me to the first President's Advisory Council on Financial Literacy, and I continued to serve President Obama in that capacity as well.

In 2008, during the global financial crisis, I was asked to reinvigorate the teachings of Napoleon Hill and the Think and Grow Rich Brand – the No. 1 global brand in personal development. My books with the Napoleon Hill Foundation include Three Feet From Gold, Outwitting the Devil, Think and Grow Rich for Women, and Success and Something Greater.

Today my greatest joy is mentoring business leaders on how to identify and embrace opportunities to scale successfully for the future.

My husband Michael and I celebrate 39 years of marriage and are proud parents of 3 children and even prouder grandparents of 4 grandchildren. We enjoy spending time at our ranch www.cherrycreeklodge.com, a little piece of heaven in the middle of the Tonto National Forest in Arizona.
2. What does the "Play Big Movement" encapsulate?

The Play Big Movement means becoming the best in Your Field, Living Your Legacy and Creating Maximum Impact.

You become the best in your field by focusing on the problem you solve or the need you serve and by doing it in a way that sets you apart from your competition. You will transform from being an expert to becoming the authority in your field by "taking the road less travelled," or innovating how you conduct your business. When others start calling you for your guidance and counsel you know you are "the authority."

Living Your Legacy means to create your legacy through every encounter you have with others. As a leader, teammate, or subordinate your ability to communicate with integrity and honor will not just establish your reputation, it will create your legacy in the eyes of the people whose lives you touch.

Creating Maximum Impact means adding the greatest value in everything you do. We could have decided to grow our talking book company slowly under our own brand, but we knew by partnering with Disney, Warner Brothers and Sesame Street, we would be more trusted by parents, and have a much larger impact on getting children excited to read again.

My passion is working with organizations to create cultures of collaboration and innovation driving financial success and providing the tools to help individuals and families elevate their financial well-being. As a true testament to the power of association-the American Institute of Certified Public Accountants asked me to be a national spokesperson on financial literacy and today I am a Founding Chancellor for the Junior Achievement Global University of Success. The power of association is what I live and what I teach so others can speed their success by Playing Big.
3. Why is the "Play Big Movement" relevant to our overall theme Leading Through Change?

Playing Big means not only embracing change…but also being willing to drive and create the change. The most successful companies solve problems or serve needs. A leader who is Playing Big commits to change that will solve problems and serve needs at the highest level for the organization, its customers, and his or her team.

They do this by creating a culture and environment of collaboration, maximizing and relying on their team's individual talents and versatility, and engaging them in the solution. Teams that Play Big together embrace change as incentive to deliver better results to the bottom line.

Change and Innovation go hand in hand. Whether the economic market dictates the change, or it evolves from within the organization, innovation is the result of finding the application of better solutions that meet the new challenges.

Playing Big may mean seeking and finding a new market, or a new association that will allow the leader to leverage their talent and resources to propel a more successful outcome.

Playing Big and Leading Through Change go hand in hand in driving your organization forward.
4. How did you come up with the idea and strategy for the "Play Big Movement"?

Throughout my career I had always Played Big, accelerating my business success by collaborating with strong partners and strategic associations. For instance, when we launched the talking children's books we aligned with companies like Walt Disney, Warner Brothers, and Sesame Street to build our credibility with parents and dramatically increased our revenue growth.

At Rich Dad, we partnered with much larger companies like Warner Books and Time Life who embraced our messaging and exponentially increased our reach and resulting revenues. With their help in spreading the Rich Dad message, we were able to reach millions of people with financial education to help them elevate their financial well-being… and in the process Rich Dad became a recognized brand around the world.

Then in 2012, my world turned upside down when I lost my youngest son. It stopped me in my tracks. My business life shifted into neutral as I operated on autopilot. We are not supposed to outlive our children. While I stayed busy, I was numb, going through the motions and no longer driving myself at the same intensity. Two years ago, I actually considered retiring… but I received quite a bit of pushback from my family and friends. They made me realize that I was still here for reason, and that many others were also looking for direction after similar life-altering events, which meant there was more for me to do.

So instead of retiring, I decided to REFIRE. I launched the Play Big Movement to Play Big again, seeking new associations to drive my messaging to serve the largest audiences possible. In the process, I am sharing what I am doing today so others can learn from my own change and innovation and apply it in their businesses to achieve the success they deserve. I invite you to visit and join the Facebook Group, Play Big Movement with Sharon Lechter. Play Big with us.
5. What advice will you give leaders in terms of financial literacy and playing big for the future decade to come?

To Play Big, a leader needs to invest in his or her team to make sure they can perform at levels of peak efficiency. However, financial stress and distress have significant impact on workplace performance because it is difficult for people to leave their personal issues at home. Studies prove that financial stress causes increased absenteeism, a reduction in productivity, and higher health care costs.

Price Waterhouse Coopers released an Employee Financial Wellness Survey that shows financial matters are the top cause of stress for employees.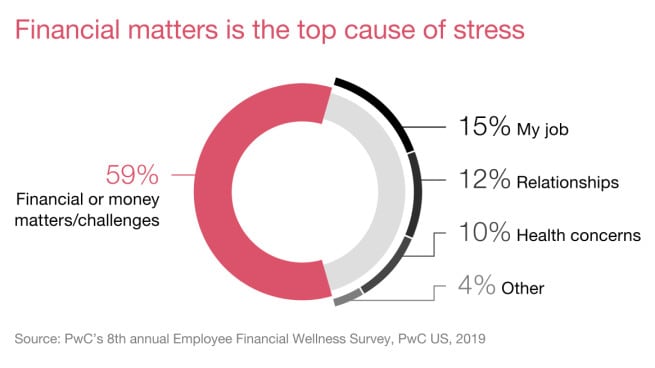 Leaders that are Playing Big have recognized this issue and the impact it is having on their organization. They are investing in financial wellness programs as part of their overall health and wellness initiatives for their employees. According to RAND, some studies suggest that wellness programs may have a return on investment of $1.50 for every dollar spent.

Since your employees are dependent on you for their paychecks, it is only prudent to provide them with the guidance and tools on how to make the most of, and with, the income they receive. It will undoubtedly reduce workplace stress, increase productivity, increase revenues and foster greater loyalty.

To learn more, visit sharonlechter.com